1 3 Dichloro 5 5 Dimethylhydantoin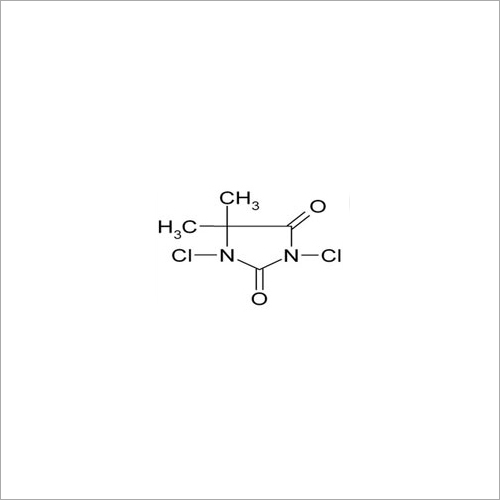 1 3 Dichloro 5 5 Dimethylhydantoin
Price And Quantity
Kilograms/Kilograms

580.00 - 650.00 INR
Product Specifications
Product Description
1, 3 Dichloro-5, 5-Dimethylhydantoin is a chemical that reacts strongly. Strong acids, compounds that rapidly oxidise, ammonia salts, and sulphides are incompatible with it. Toxic and caustic vapours will be produced when it reacts with water or steam. It fully decomposes at a pH of 9. Our provided product is utilized as an efficient oxidizing agent for the oxidation of urazoles and bis-urazoles to their corresponding triazolinediones in the reaction of chlorination of cytosine base in the manufacture of -chloroacetophenones.
1, 3 Dichloro-5, 5-Dimethylhydantoin Properties:
Physical properties:
Molecular weight: 197.02 g/mol
Appearance: White crystalline solid
Melting point: Approximately 155-157 degree centigrade
Boiling point: Decomposes before boiling
Chemical properties:
DCDMH is a stable compound under normal conditions.
It is a strong oxidizing agent and can release chlorine when heated or in contact with strong acids.
It undergoes hydrolysis in water to form hypochlorous acid (HOCl) and dimethylurea.
Uses and applications:
DCDMH is primarily used as a disinfectant and biocide. It is an effective source of chlorine for water treatment and sanitization applications.
It is commonly used in swimming pools, hot tubs, and spas to control the growth of bacteria, algae, and other microorganisms.
DCDMH has also been employed in industrial water treatment, cooling towers, and wastewater treatment processes.
Health and safety considerations:
DCDMH is a strong oxidizing agent and should be handled with care.
It can cause irritation to the skin, eyes, and respiratory system. Protective equipment, such as gloves and goggles, should be worn when handling DCDMH.
It is important to follow proper safety guidelines and use appropriate concentrations when using DCDMH as a disinfectant.
DCDMH should be stored in a cool, dry place away from incompatible substances.