1 3 Dibromo 5 5 Dimethylhydantoin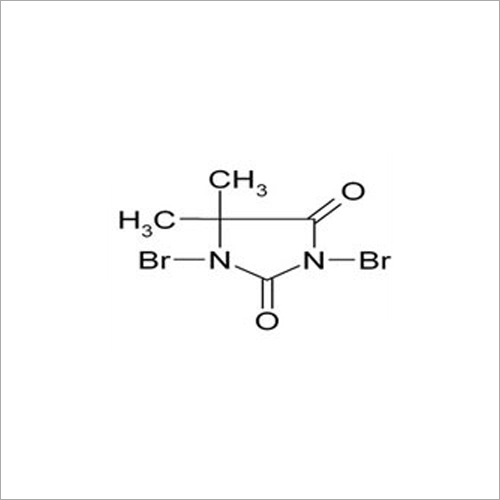 1 3 Dibromo 5 5 Dimethylhydantoin
Price And Quantity
Kilograms/Kilograms

400.00 - 450.00 INR
Product Specifications
Product Description
1, 3-Dibromo-5, 5-Dimethylhydantoin is a helpful and simple-to-handle reagent for brominating a variety of aromatic derivatives substituted with electron-donating groups. It is employed in the bleaching process in pulp and paper mills, the treatment of recreational water, the purification of drinking water, and the maintenance of commercial and industrial cooling systems. It works well and selectively to convert thiols to disulfides in solutions or without the need of a solvent. This chemical is very effective as well as economical and safe to use.
1, 3-Dibromo-5, 5-Dimethylhydantoin Properties:
Chemical Formula: C5H6Br2N2O2
Molecular Weight: 296.92 g/mol
Appearance: DBDMH is a white crystalline solid.
Solubility: It is sparingly soluble in water but dissolves readily in organic solvents such as acetone, chloroform, and dichloromethane.
Melting Point: The compound has a melting point of approximately 180-185 degree centigrade.
Stability: DBDMH is relatively stable under normal conditions but can decompose at higher temperatures.
Odor: It has a slight characteristic odor.
Reactivity: DBDMH is a powerful oxidizing agent and can react with various organic and inorganic substances.
Uses of 1, 3-Dibromo-5, 5-Dimethylhydantoin:
DBDMH is primarily used as a disinfectant and biocide. It is commonly employed as a source of bromine for water treatment in swimming pools, spas, and industrial cooling towers to control microbial growth. It is also used as a disinfectant for industrial processes, and in the textile and paper industries.